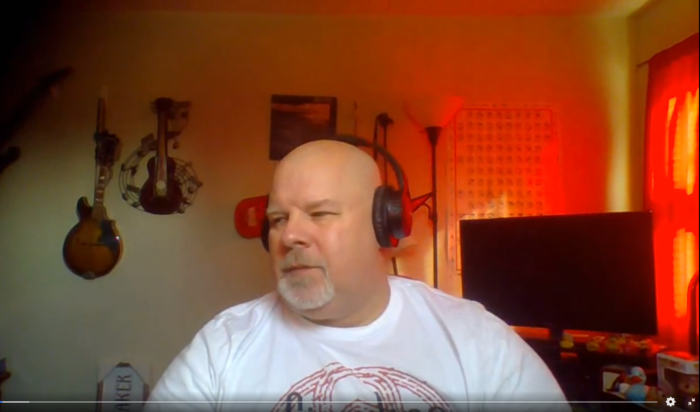 Thank you SO MUCH, "Poppa Shane" P. Shane McAfee, for this super cool, GREAT review of CircuLive::NewView, on your "Auditorium One channel!!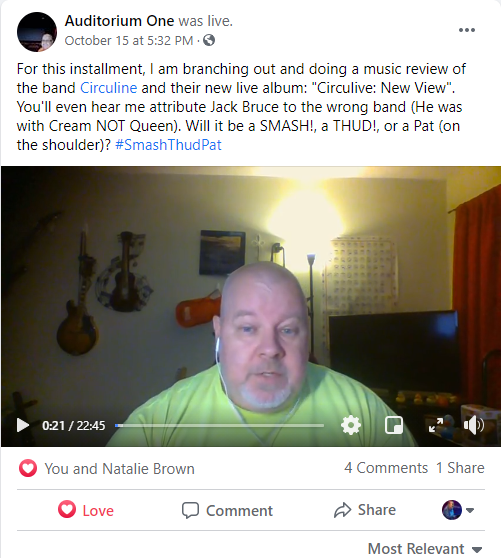 Here are some excerpts of the transcript……
"…..bands like Rush, Kansas, and the Dixie Dregs have been in my music collection for years.
After a nice introduction, Circuline goes into Soleil Noir which, to my ears, seems like the next stop from Rush's YYZ and gives a great first auditory view of how well the band members of Circuline mesh together as a unit. Natalie Brown goes into the song One Wish with a voice that is equal parts of Grace Slick, Marty Balin, and Annie Lennox.
Sharing the lead vocals is Billy Spillane whose range and vibrato are somewhat reminiscent of Dennis De Young especially on the song Forbidden Planet which would be perfectly in place on Styx's album Equinox. This is, of course, in addition to the rhythm guitar layering provided by Spillane throughout the set. Actually, I would say that Forbidden Planet and Summit are two standout songs where the band really shows some of their best work as a unit both vocally and instrumentally.
Bassist Joel Simches leads the listener into the song Nautilus with a cool bass solo intro that is equal parts of Andy West, Jack Bruce, and Jaco Pastorius.
Guitarist Alek Darson provides great layering by instinctively knowing when to lay back and when to lay it all on the musical table. Darson's guitar work is like listening to Jeff Beck play with Neal Schon.
Drummer Darin Brannon provides great support throughout the set without using a bunch of busy fills or drawing too much attention to himself. This only changes when Brannon and Andrew Colyer do some head cutting on the simply titled Piano Challenge.
At the end of their set,keyboardist Andrew Colyer introduces the band members to the audience, Circuline closes the set with Stereotypes. Every band has that one song that makes a great set closer and Stereotypes is definitely the one for Circuline. So, if one were to ask me what were the standout tracks from New View, I would say that Forbidden Planet, Summit, and Stereotypes were the ones that melted my face off. I would go so far to say that any live concert Circuline does would be incomplete without those three songs in the set list.
One thing that comes across very clearly is the theatrical quality of Circuline's live sound. New View sounds like it could easily be a soundtrack for a rock musical. This is no surprise given the ties that some of the band members have to the world of theater. This includes their cover of the Sound of Contact song Pale Blue Dot; a song that made me think of Zaphod Beeblebrox entering the Total Perspective Vortex.
Circuline have definitely acquired a new fan in me with the release of New View which I rate as an absolute SMASH! This album will be right at home alongside my other albums such as Dixie Dregs Bring 'Em Back Alive and Rush's Time Machine. I have had the digital copy for 3 days now (as of this writing) and I have listened to it every day since I got it. If you are a fan of any of the bands that I mentioned such as ELO, Jefferson Starship, or Kansas, I recommend you go to Circuline's webs site at https://circulinemusic.com/ and get your copy of New View. If you aren't familiar with those bands and want a well orchestrated soundtrack to any given day, check this album out!
I want to give a last bit of kudos to the band for the tiered level pre-order bundles they offered leading up to the release of Circulive: New View. It was a brilliant move within the restrictions of the COVID-19 pandemic to keep their current audience engaged and acquire a wider fan base. The end credits of the Blu-ray as well as the liner notes in the case provide great amusement from serious musicians who don't take themselves as seriously as they do their music."
Again – thank you so much, "Papa Shane" and Auditorium One for this FANTASTIC review!