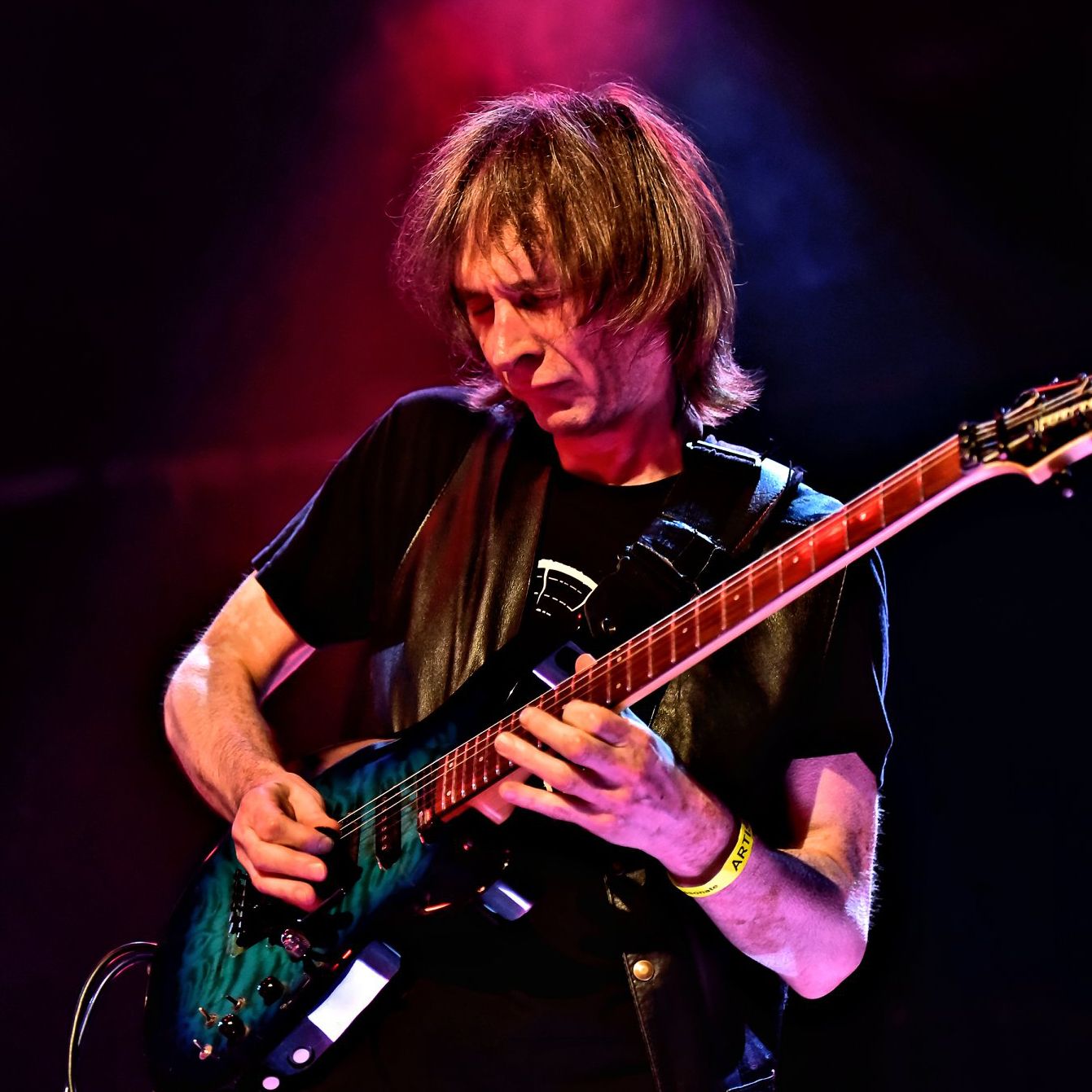 Dave Bainbridge
It's fair to say that the Circuline guitarist is a busy man. Born in Darlington, Dave began piano lessons at the age of eight and guitar lessons from his dad at thirteen. He joined his first band at the age of fourteen.
Winner of the BBC Radio 2 Best Jazz Soloist Award (piano) and the Sam Hood Rosebowl for Outstanding Performance during his time at Leeds Music College , He has regularly been voted as one of Prog Magazine's Top Ten Guitarists in their annual Readers Poll, coming 3rd in 2021 after Steve Hackett and John Petrucci, and 4th in 2022.
Dave's multi-faceted career as a solo artist, musician, composer, improviser, producer, arranger, teacher, musical director and sound mixer has led him into many musical genres and work with numerous artists including: Strawbs, Lifesigns, Jack Bruce, Buddy Guy, Phil Guy, Nick Beggs, Gloria Gaynor, Moya Brennan, Robert Fripp, Mae McKenna, Phil Keaggy, Paul Jones, Damian Wilson, Snake Davis, PP Arnold, Mollie Marriott, Norman Beaker, Pete Brown, Gary Boyle, David Paton, The Original Alan Parsons Project Band, Annie Haslam, Eric Bazilian, Neal Morse, Paul Bielatowicz and many others. 
Co-founder of Celtic progressive/folk/rock band IONA, Dave toured the world with the band between 1989 and 2015, releasing thirteen critically acclaimed albums, twelve of which Dave produced. The Book of Kells received several awards, including Best Album (Billboard Magazine). Journey Into The Morn was voted amongst Q Magazine's top five Folk Albums and Top fifty Albums. Keyboard legend Rick Wakeman cited IONA as his favorite band and wrote an appraisal in the bands 2001 box set The River Flows. 
IONA twice headlined Cornerstone Festival in the USA, in front of 25,000 people, played in front of 35,000 at Creation Festival (USA), twice played at Glastonbury Festival and headlined at many prestigious venues including The Royal Festival Hall, London. The band were one of the first western artists to tour in the Baltic States after the fall of the Iron Curtain. IONA made many TV appearances and IONA/Dave's music has been used extensively on TV programmes around the world. 
Dave has composed soundtracks for numerous short films, TV and multimedia productions and co-wrote the guitar concerto Iberian Fantasy with Classic FM favorite Nick Fletcher, released on the album Cathedral of Dreams. Dave has scored orchestral arrangements for Strawbs, IONA, Michael Ball, Adrian Snell and The All Souls Orchestra. He has been musical director for singer-songwriter Adrian Snell in major productions of Adrian's works The Passion, Light of the World and Alpha And Omega. 
Dave has released four solo albums, Veil of Gossamer, Celestial Fire, The Remembering, and To the Far Away.  Celestial Fire led to the formation of Dave's band of the same name in 2015 and the Celestial Fire Band Live In The UK DVD/2CD album was released in April 2017. Dave has also worked on collaborative albums with Troy Donockley, IONA co-founder David Fitzgerald, and most recently Lord of the Dance singer Sally Minnear.  His 4th solo album, To The Far Away, was released at the end of November 2021, and was featured in a number of 'Best Of 2021' Polls (despite being released towards the end of the year).
Before beginning his work with Circuline, Dave has most recently been quite busy recording and touring with John Young's band Lifesigns.  Dave is a great guy, a world-class musician, and we are lucky and grateful to have him as a part of the Circuline team.