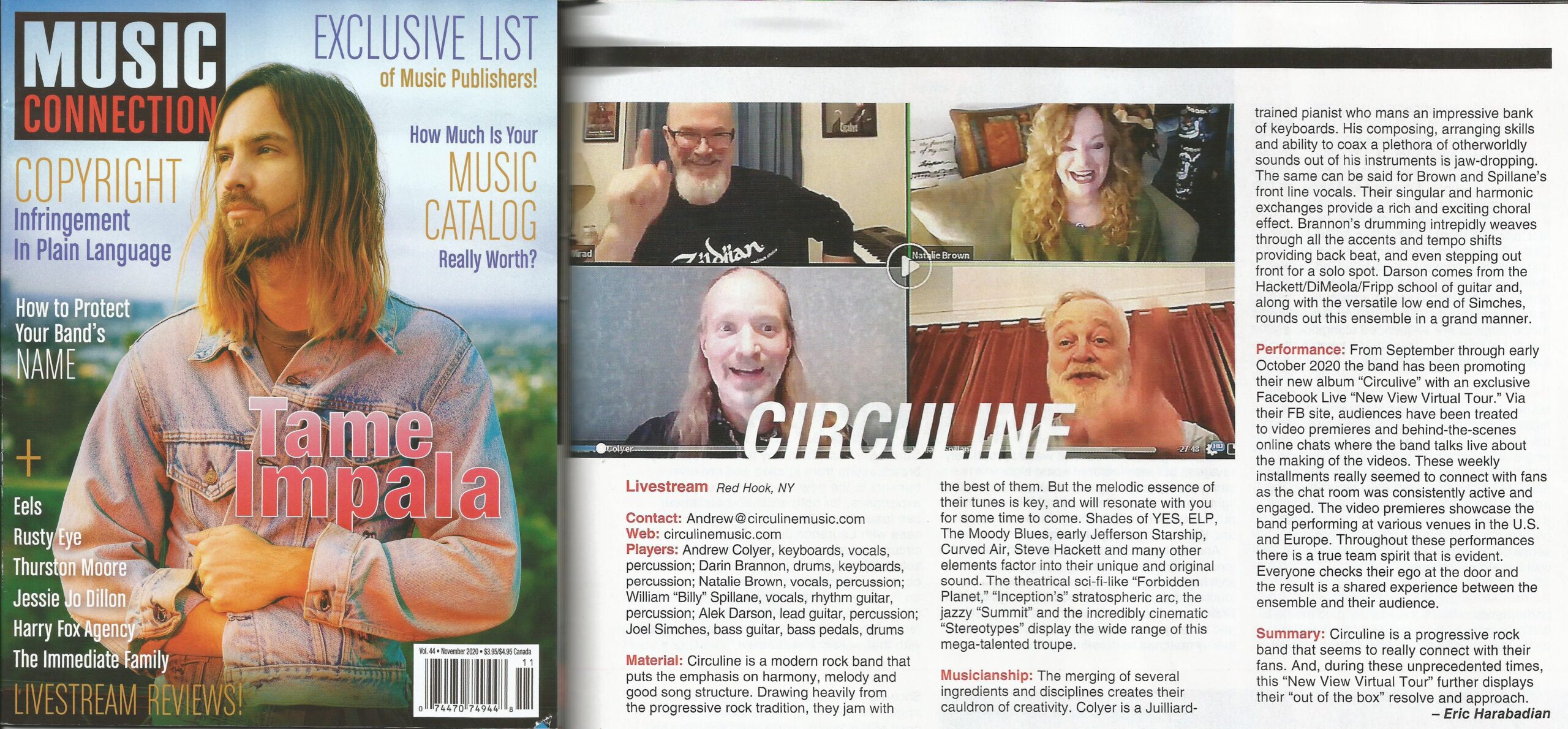 Thank you so much, Music Connection Magazine and Eric Harabadian, for featuring Circuline in your November 2020 Livestream Reviews, for our 15-date, 45-Event NewView Virtual Tour!
We are reproducing the entire article here for your ease of reading:
Material: Circuline is a modern rock band that puts the emphasis on harmony, melody and good song structure. Drawing heavily from the progressive rock tradition, they jam with the best of them. But the melodic essence of their tunes is key, and will resonate with you for some time to come. Shades of YES, ELP, The Moody Blues, early Jefferson Starship, Curved Air, Steve Hackett and many other elements factor into their unique and original sound. The theatrical sci-fi-like "Forbidden Planet," "Inception's" stratospheric arc, the jazzy "Summit" and the incredibly cinematic "Stereotypes" display the wide range of this mega-talented troupe.
Musicianship: The merging of several ingredients and disciplines creates their cauldron of creativity. Colyer is a Juilliard-trained pianist who mans an impressive bank of keyboards. His composing, arranging skills and ability to coax a plethora of otherworldly sounds out of his instruments is jaw-dropping. The same can be said for Brown and Spillane's front line vocals. Their singular and harmonic exchanges provide a rich and exciting choral effect. Brannon's drumming intrepidly weaves through all the accents and tempo shifts providing back beat, and even stepping out front for a solo spot. Darson comes from the Hackett/DiMeola/Fripp school of guitar and, along with the versatile low end of Simches, rounds out this ensemble in a grand manner.
Performance: From September through early October 2020 the band has been promoting their new album "Circulive" with an exclusive Facebook Live "New View Virtual Tour." Via their FB site, audiences have been treated to video premieres and behind-the-scenes online chats where the band talks live about the making of the videos. These weekly installments really seemed to connect with fans as the chat room was consistently active and engaged. The video premieres showcase the band performing at various venues in the U.S. and Europe. Throughout these performances there is a true team spirit that is evident. Everyone checks their ego at the door and the result is a shared experience between the ensemble and their audience.
Summary: Circuline is a progressive rock band that seems to really connect with their fans. And, during these unprecedented times, this "New View Virtual Tour" further displays their "out of the box" resolve and approach.
The digital online version of this article was originally published on October 26th, 2020. Here is the link: