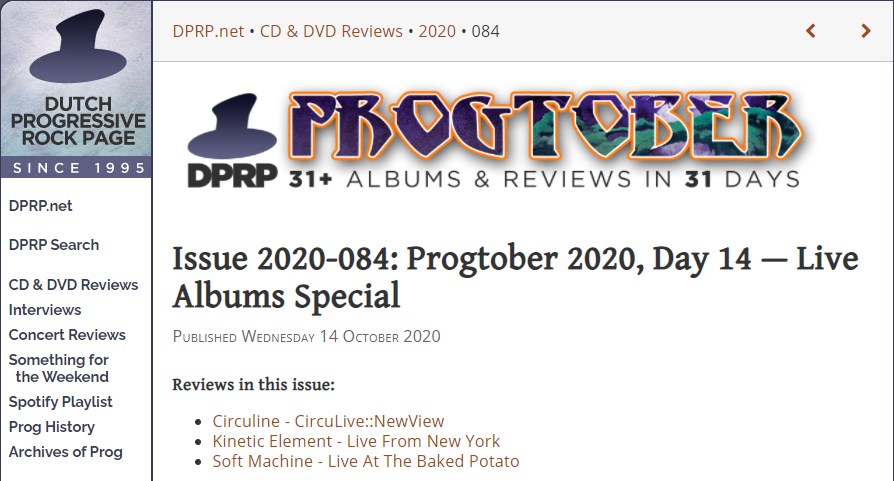 Thank you so much to Geoff Feakes for the glowing review of CircuLive::NewView – a score of 8.5 out of 10!
"The vocal arrangements give Circuline's sound an extra dimension…..an appealing combination of vocal melodies, that have a contemporary, mainstream rock vibe, and retro-prog instrumental sections…..Natalie and Billy dueting superbly…..blistering guitar accompaniment…..a masterclass in guitar and keyboard dynamics…..Natalie proves you can dance to prog.
Piano Challenge reveals itself to be a face-off between Colyer and Brannon as they playfully attempt to outperform each other with their joint piano skills…..For me, it's the highlight of the show and it also goes down well with the appreciative ProgStock audience.
The Drum Feature at the end of Forbidden Planet is a visual treat with a skin-thumping display from the entire band (with the exception of Natalie who sticks to tambourine). It's a throwback to the stage theatrics of Gentle Giant and Yes' live performance of Ritual.
Like CircuLive::Majestik, this is a fine, and thoroughly recommended testimony to Circuline's stagecraft and their superb material. Newcomers Darson and Simches are real assets, raising the already impressive musicianship to a new level. The performances are tighter, as are the vocal arrangements. Despite the absence of new songs, the arrangements sound fresh and the Piano Challenge and Drum Feature are entertaining additions to the set. Although the musical comparators mentioned above are all British and very 1970s, Circuline compare favourably with contemporary, home-grown acts like Glass Hammer, Spock's Beard and Kansas."
Click this link to read the entire review:
https://www.dprp.net/reviews/2020-084