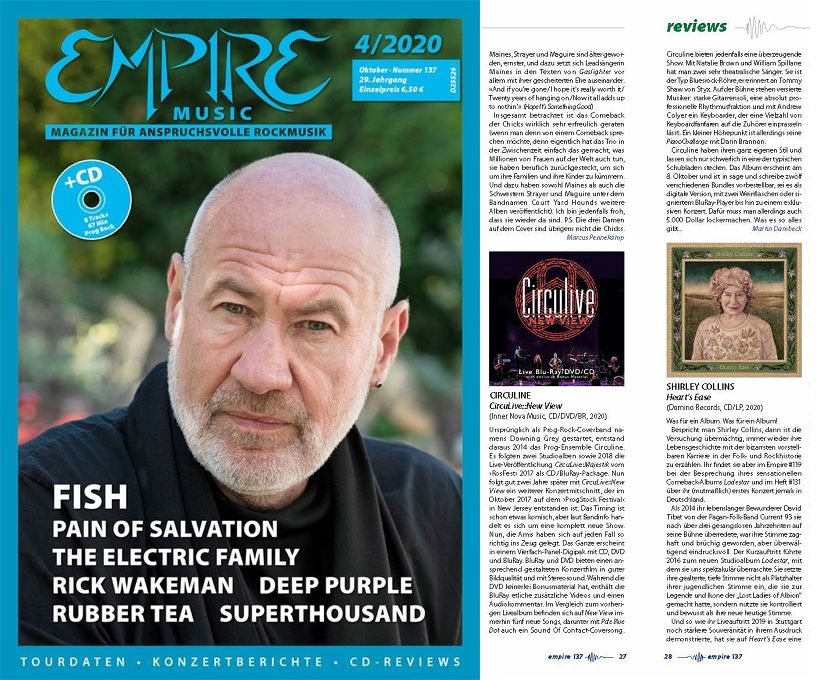 Thank you so much, Martin Dambeck and Empire Magazine (Germany) for the review of CircuLive::NewView! This is the band's first placement in Empire. Here is the Google Translate version of the review. 😊
Originally called as a prog rock cover band Downing Grey started, arose to form 2014 the Prog-Ensemble Circuline. Two studio albums followed and in 2018 the Live publication CircuLive :: Majestik from ›RosFest‹ 2017 as CD / BluRay package. Now follows a good two years later with CircuLive :: New View another concert recording that was made in October 2017 at the ›ProgStock Festival‹ originated in New Jersey. The timing is a bit strange, but according to the band info it's a completely new show.
Well, the Americans are definitely like that really worked. The whole thing appears in a four-panel digipak with CD, DVD and BluRay. BluRay and DVD are appealing designed concert film in good Image quality and with stereo sound. While the DVD does not contain any bonus material BluRay several additional videos and one
Audio commentary. Compared to the previous one Live albums are at least on New View five new songs, including "Pale Blue Dot" also a Sound Of Contact cover song.
Circuline certainly offer one convincing one Show. With Natalie Brown and William Spillane you have two very theatrical singers. She is the type of blues rock type, he reminds me of Tommy Shaw from Styx. Experienced people stand on the stage Musician: strong guitar solos, an absolutely professional one Rhythm section and with Andrew Colyer a keyboardist who made a variety of Keyboard fanfares pound on the audience leaves. A small highlight, however, is his Piano Challenge with Darin Brannon. Circulins have their very own style and can hardly be converted into one of the typical "put in the drawers".
The album will be released on October 8th and is in no less than twelve various bundles can be pre-ordered, be it as digital version, with two wine bottles or signed BluRay player up to an exclusive one Concert. But you have to do that to loosen up $ 5,000. What it all gives … Martin Dambeck