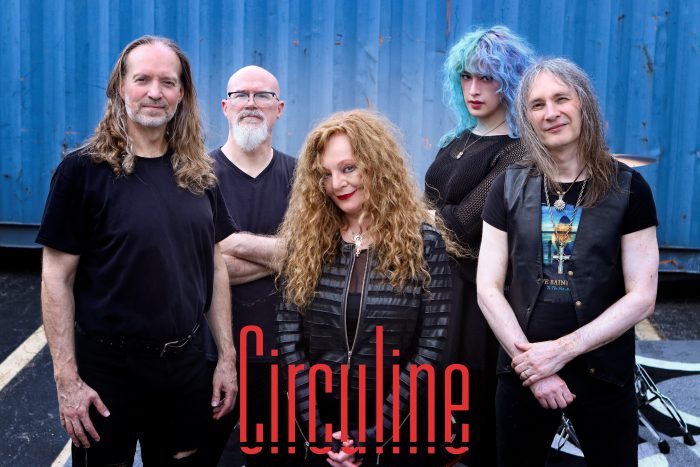 Prog ensemble Circuline are excited to announce a new lineup! Keyboardist/vocalist Andrew Colyer (Robert Berry's 3.2 Band, The Tubes), drummer Darin Brannon (Downing Grey, Surface Tension), and lead vocalist Natalie Brown (Evita, Rocky Horror Picture Show) welcome new band members Shelby Logan Warne (Kyros) on bass and vocals, and Dave Bainbridge on guitars (Strawbs, IONA, Lifesigns).
Six years in the making, Circuline's new album "C.O.R.E.", released on the Inner Nova Music label, will be available as an album of eight tracks available in a gatefold digipak CD, with an eight-page booklet of lyrics and liner notes. The album will be released on Friday, September 20th, 2024.

This album explores themes in romantic relationships, surviving abuse, finding one's own personal power, and the turbulent times in which we live. Where does the album title come from? Collectively, we've all lived through a unique time in history, and the band has had quite a few personnel changes, which are discussed in the new "Behind the Scenes" Album Launch video. We are Circuline. We are Original. We are Reimagined. We are Evolving. We are the "C.O.R.E.".

Says Andrew, "Written and recorded between 2018 and 2023, for this album we really wanted to keep all of the writing "in-house" within the band. So, the majority of the material was written by myself, Darin, and Natalie. Billy Spillane had input into almost every song before he decided it was time to move on. Two of the songs were co-written with Matt Dorsey, who is still a good friend and colleague of ours – I'm performing with his band at the International ProgStock Festival this year. Alek Darson had invaluable input during the writing and arranging stages. Shelby and Dave brought new perspectives and their own unique artistry to these songs, and we couldn't be happier with the result. The icing on the cake is to have our good friend Joe Deninzon (Kansas, Stratospheerius) as a Guest Artist for some killer electric violin parts!"

Watch Circuline's "C.O.R.E." Album Launch Video: https://www.youtube.com/watch?v=_ckt6SKkIoM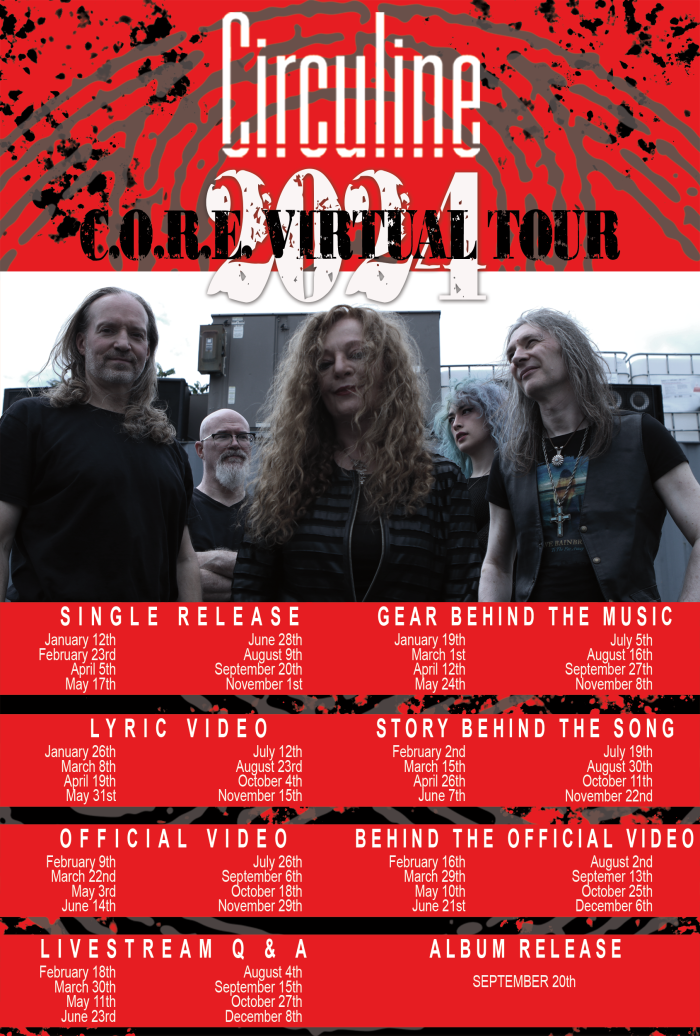 The 2024 "C.O.R.E." Virtual Tour begins in January 2024, and will consist of 56 events in 48 weeks, with Single releases, Lyric videos, Official videos, "Behind the Scenes" videos, and Livestream Q&A events where the band is able to connect with their fans around the world.

Number #1 in Portugal. Top 10 in Japan. Prog-Award Nominated. Global Music Award Winning. With sales in 23 countries, modern progressive rock band Circuline's fanbase is growing daily. Circuline has toured with Glass Hammer, repeatedly co-headlined the three-day Sonic Voyage Festival, and toured England opening for IO Earth. Circuline has performed at the International Rites of Spring festival (RoSfest), Philadelphia's Liberty Music Fest, Chicago's Progtoberfest, New Jersey's ProgStock, and England's Harmonix Festival.

In closing Andrew has this to say to the band's listeners, "We are all part of the human condition on this planet. We all have to find a way to coexist. From a band perspective, just keep going! Never give up. When there's a goal you want to accomplish for your life, only seriously consider the opinions of people who have actually accomplished what it is that you want to do."
Track Listing
1.) Tempus Horribilis (6:22) – out of the gate, a proggy epic about the turbulent times we've been living in…..
2.) Third Rail (4:20) – a short-form song about the hazardous topics in relationships…..
3.) Say Their Name (6:18) – think "Steven Wilson meets Pierre Moerlin's Gong"…..
4.) All (7:54) – co-written with Matt Dorsey, it's a prog epic in 9…..
5.) Temporal Thing (5:51) – a song about the ambivalence that can present in long-term relationships…..
6.) You (6:22) – dark, man…..
7.) Blindside (6:08) – co-written with Matt Dorsey, it's your power ballad anthem…..
8.) Transmission Error (9:23) – another song about relationships, "finding yourself", or space creatures. We still can't decide. It's your 10-minute prog epic to close the album!
Recorded at:
The Cave, Red Hook, New York. Engineered by Andrew Colyer.
Old Street Studios, London, England. Engineered by Shelby Logan Warne
Open Sky Studios. Baltimore, Maryland. Engineered by Dave Bainbridge.
Joe's Place. Kansas Touring Rig. Engineered by Joe Deninzon.
Mixed by Billboard-charting veteran producer Robert Berry (Keith Emerson, Carl Palmer, Steve Howe, Geoff Downes, John Wetton, Jordan Rudess, Ambrosia, Sammy Hagar, December People, 3.2 band, Six by Six band) at Soundtek Studios in Campbell, California.

Artwork – The album cover was painted by 98-year-old New York artist-activist-actor Henrietta Mantooth Bagley. Band photography by Chris Nostrand and Don Chaffin. Graphic design and packaging by Darin Brannon.

To pre-order:www.CirculineCORE.com
For more information:
Website: https://circulinemusic.com/
Facebook: https://www.facebook.com/CirculineMusic
Instagram: https://www.instagram.com/circulinemusic/
Twitter: https://twitter.com/circulinemusic
YouTube: https://www.youtube.com/c/CirculineProgRock

Press Inquiries: Glass Onyon PR, PH: 1-828-350-8158, glassonyonpr@gmail.com

Thank you so much to Background Magazine's Henri Strik and Tracy van Os van den Abeelen, for this FANTASTIC review! We are reprinting it here IN FULL, and if you want to read it on their website, the link is included at the bottom of this post. 😀
~
For many lovers of progressive rock living in the USA is Circuline a rather well known name. However for those living on the other side of the Atlantic ocean this name doesn't ring any bells for most of them. They don't know that they started early 2014 and released already two studio albums. Namely Return (2015) and Counterpoint (2016). This sextet from New York occasionally does some live performance in their country and also wants to climb the stage in Europe. But as with many bands from North or South America it is rather difficult to reach their audience outside their home country and see them face to face. Therefore it is sometimes a good way to come with a live release. This also occurs for Circuline. Therefore they decide to come up with a second live release in their career after putting out Circulive::Majestik back in 2018. So it's now time to welcome Circulive: New View. It's a release which is without any doubt a great bundle to own. Why? Because it brings out the audio and video on CD, DVD and Blu-ray in one package. How cool is that!
New View was recorded at the ProgStock Festival October 14th in 2017. It was done in a line up consisting of Andrew Colyer (keyboards / vocals / percussion), Darin Brannon (drums / keyboards), Natalie Brown (lead vocals / percussion), William Spillane (lead vocals / rhythm guitar / percussion), Joel Simches (bass / bass pedals / drums / acoustic guitar) and Alek Darson (lead and rhythm guitars).
The whole release is rather entertaining and gives us a cross-section of their already mentioned two studio albums. There is also one composition written by Sound of Contact, namely Pale Blue Dot. A great version if I may say so. Moreover we have the great Piano Challenge between Andrew Colyer and Darin Brannon. A medley with scraps of classical music as well as excerpts of Tarkus (ELP) and Awaken (Yes). Also nice is The Drum Feature that follows the soundscape-like Forbidden Planet. Instead of just letting the drummer go behind his kit on his percussion, everyone taps, drums or plays on a percussion instrument. Nice for variety and as a show element and is something which Gentle Giant and Lazuli have also done on stage.
For me it is the instrumental parts such as in Fallout Shelter, Forbidden Planet and Stereotypes that appeal to me very much because everyone has mastered their instrument well and radiates pleasure playing. In addition to the pointed but delightful guitar solos, the classical piano playing and the flashy bass playing on the Rickenbacker are particularly striking. Off course it doesn't mean that the songs in which the two singers are included are the worst compositions done. Both singers have strong voices and add really something to the band.
All in all you can say that the keyboards stand out, and you can tell who is holding the strings here. But the guitar work is not neglected either and supported by an excellent rhythm group.
The DVD contains the same material as the CD, but the Blu-ray offers additional video content: concert with audio commentary, backstage and behind the scenes material, official videos, onstage photo slide show and concert poster slide show. So the fan gets a lot of material here and will be thrilled.
In the end Circuline offers the fan the best-off par excellence but also the perfect live album which will obviously delight all the followers of the group but which will also serve as a starting point for all those who want to discover this great American band. This is a real must for fans of Glass Hammer, Renaissance, Magenta and Yes! And of course for lovers of progressive rock in general! Well done indeed! Next time please get to the other side of the Atlantic!!!
**** Henri Strik (edited by Tracy van Os van den Abeelen)
~
https://www.backgroundmagazine.nl/CDreviews/CirculineCirculiveNewView.html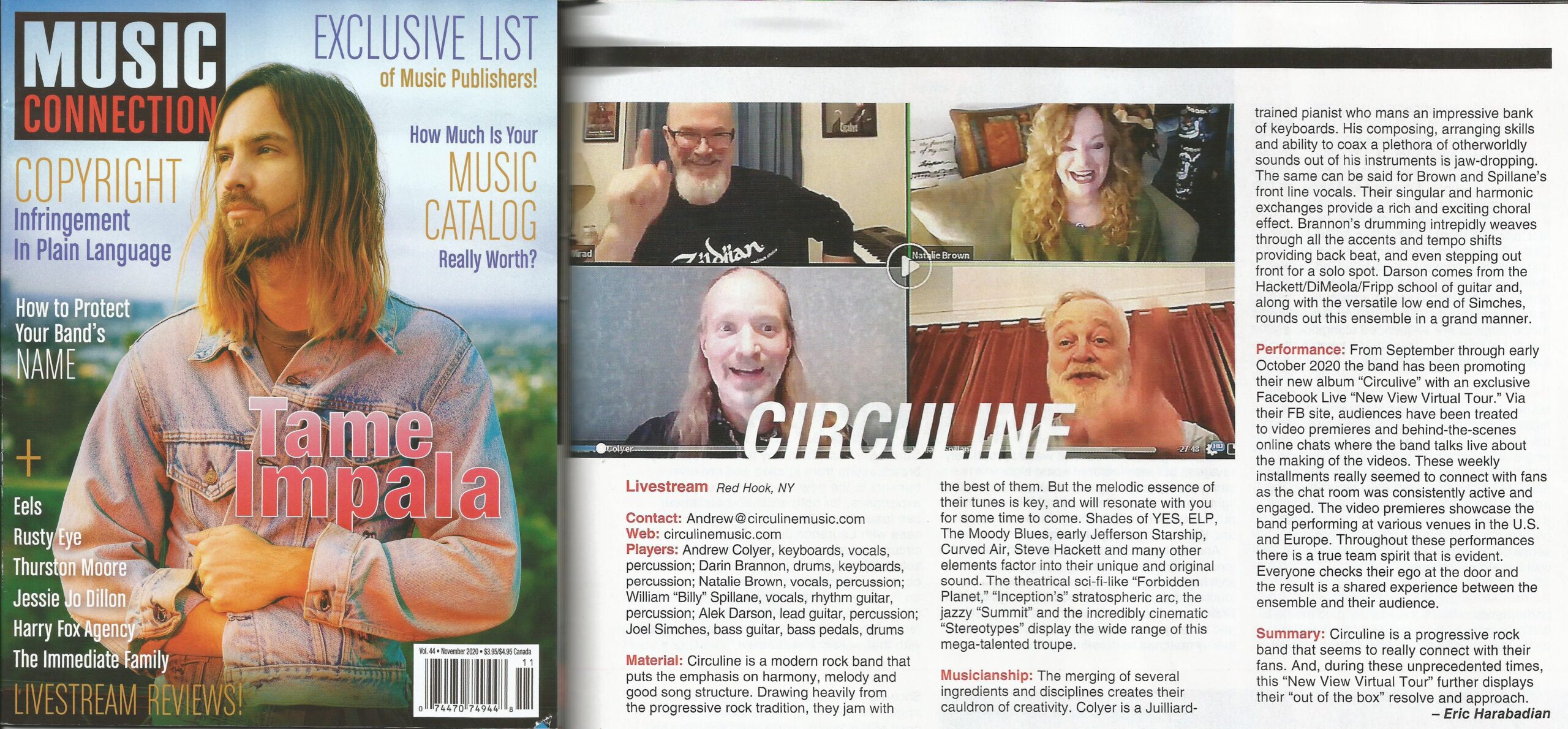 Thank you so much, Music Connection Magazine and Eric Harabadian, for featuring Circuline in your November 2020 Livestream Reviews, for our 15-date, 45-Event NewView Virtual Tour!
We are reproducing the entire article here for your ease of reading:
Material: Circuline is a modern rock band that puts the emphasis on harmony, melody and good song structure. Drawing heavily from the progressive rock tradition, they jam with the best of them. But the melodic essence of their tunes is key, and will resonate with you for some time to come. Shades of YES, ELP, The Moody Blues, early Jefferson Starship, Curved Air, Steve Hackett and many other elements factor into their unique and original sound. The theatrical sci-fi-like "Forbidden Planet," "Inception's" stratospheric arc, the jazzy "Summit" and the incredibly cinematic "Stereotypes" display the wide range of this mega-talented troupe.
Musicianship: The merging of several ingredients and disciplines creates their cauldron of creativity. Colyer is a Juilliard-trained pianist who mans an impressive bank of keyboards. His composing, arranging skills and ability to coax a plethora of otherworldly sounds out of his instruments is jaw-dropping. The same can be said for Brown and Spillane's front line vocals. Their singular and harmonic exchanges provide a rich and exciting choral effect. Brannon's drumming intrepidly weaves through all the accents and tempo shifts providing back beat, and even stepping out front for a solo spot. Darson comes from the Hackett/DiMeola/Fripp school of guitar and, along with the versatile low end of Simches, rounds out this ensemble in a grand manner.
Performance: From September through early October 2020 the band has been promoting their new album "Circulive" with an exclusive Facebook Live "New View Virtual Tour." Via their FB site, audiences have been treated to video premieres and behind-the-scenes online chats where the band talks live about the making of the videos. These weekly installments really seemed to connect with fans as the chat room was consistently active and engaged. The video premieres showcase the band performing at various venues in the U.S. and Europe. Throughout these performances there is a true team spirit that is evident. Everyone checks their ego at the door and the result is a shared experience between the ensemble and their audience.
Summary: Circuline is a progressive rock band that seems to really connect with their fans. And, during these unprecedented times, this "New View Virtual Tour" further displays their "out of the box" resolve and approach.
The digital online version of this article was originally published on October 26th, 2020. Here is the link: