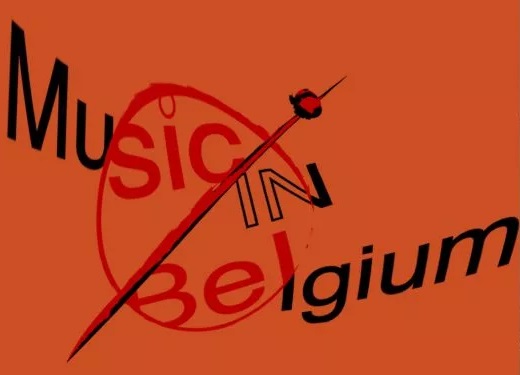 Thank you so much, MUSIC IN BELGIUM and reviewer Philippe Thirionet, for this fantastic 4-Star (out of five) review! We're reproducing the entire article in English, via Google Translate, below.
It is indeed an ultra complete Live box set that is given to us by the New York group Circuline which since 2015 has been navigating between progressive rock, cinematic rock or even crossover-prog and classic-rock with here near of 13 compositions available in 3 distinct formats. So let's dive into this imposing preciousness with first of all the analysis of the CD opening on an intro then, the music of the group begins with first of all a nice bass sound that serves as a door to 'entry to a rather classic rock-progressive with also modern and atmospheric synths which, offer a very melodic note to American rock … a progressive in fact where the synths twirl sometimes recalling the great Genesis . Between the songs it's Natalie Brown who thanks the audience and suggests the songs that will be played. But enough talk, I therefore offer you two first 'promo-clips' to listen to, to discover the group and its music:
Where we perceive a rock both tinged with folk, progressive but also classic-rock since here, we find acoustic passages like certain more neo-classical moments, when the piano is heard. Overall this is a music that represents well it seems to me an accessible and multifaceted rock because obviously, the group is able to tack between genres while keeping in focus the will to build a Classic-rock where we feel the imprint of the seventies via the sound of the organs without counting, neo-classical or progressive scents see heavier passages come to flesh out the sound content of our Americans. And I have not yet talked about the vocal part where, the song of Natalie is regularly added to choirs carried by one or the other protagonist who accompanies the beautiful, song and vocal harmonies perfectly complementing the musical picture of this concert given in fact in 2017! In fact you could find other promotional extracts on YouTube but what I offer you is a complete composition resulting from this stage performance:
This will allow you on the one hand to see the impressive material on stage (you will be able to see it again of course when the DVD is broadcast) and on the other hand, a complete performance next to a song dating from 2016 with also beautiful instrumental passages! The whole album is in the image of a colorful performance where each protagonist is in his place, masters his subject and therefore offers a musical game and / or a vocal work without reproach while remaining in a rather classic niche. rock or progressive.
Other extracts are of course available, I offer you one by the way, with one of the last compositions of the concert captured for the occasion:
Clean and well done work that does not suffer from any false note, but let's move on to the DVD which obviously offers us an additional dimension with the image of the scenic performance which shows us even better all the logistics on stage but especially all the professionalism developed by the whole group. The sound-image capture is impeccable and therefore worthy of a quality DVD, the same of course for the Blu-Ray version which perfectly complements a most complete and successful box set!
In the end Circuline offers the fan the best-off par excellence but also the perfect 'Live' album which will obviously delight all the followers of the group but which also, will serve as a starting point for all those who want to discover the American formation. In terms of classic-rock, classic progressive and American rock, this is a must!
This article was originally posted online on November 22nd, 2020: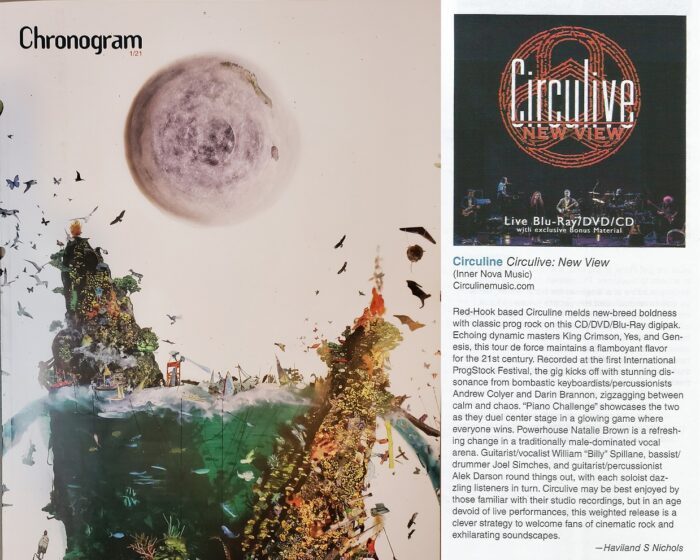 Thank you so much, Chronogram Magazine and reviewer Haviland S. Nichols, for the excellent review of CircuLive::NewView!
"Red Hook based Circuline melds new-breed boldness with classic prog rock on this CD/DVD/Blu-Ray digipak. Echoing dynamic masters King Crimson, Yes, and Genesis, this tour de force maintains a flamboyant flavor for the 21st century. Recorded at the first International ProgStock Festival, the gig kicks off with stunning dissonance from bombastic keyboardists/percussionists Andrew Colyer and Darin Brannon, zigzagging between calm and chaos. "Piano Challenge" showcases the two as they duel center stage in a glowing game where everyone wins. Powerhouse Natalie Brown is a refreshing change in a traditionally male-dominated vocal arena. Guitarist/vocalist William "Billy" Spillane, bassist/drummer Joel Simches, and guitarist/percussionist Alek Daron round things out, with each soloist dazzling listeners in turn. CircuLive may be best enjoyed by those familiar with their studio recordings, but in an age devoid of live performances, this weighted release is a clever strategy to welcome fans of cinematic rock and exhilerating soundscapes."
This article was also originally posted online on January 1st, 2021: https://www.chronogram.com/hudsonvalley/album-review-circuline-circulive-new-view/Content?oid=12037109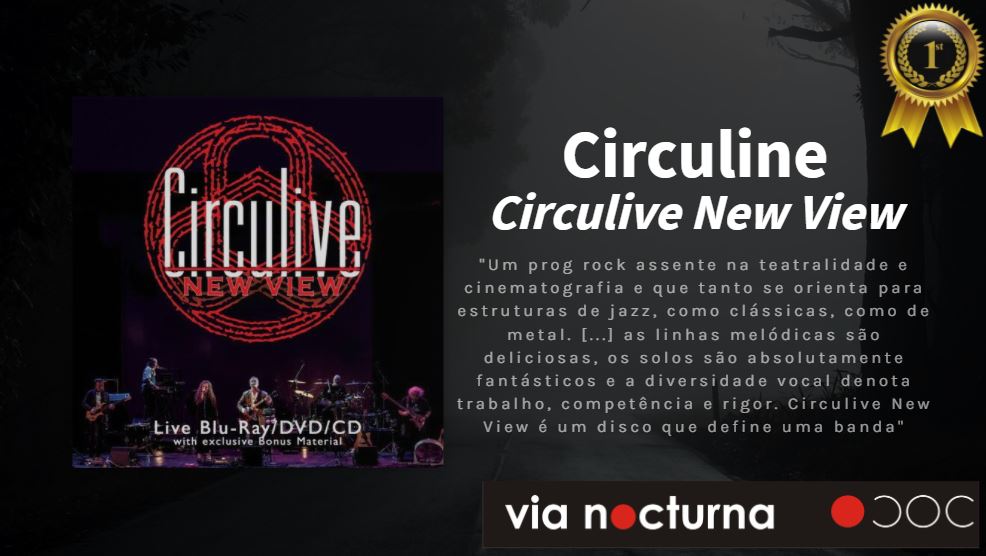 It's one thing to be included on a "Best of" Year-End List with the Neal Morse Band (#6), Grave Digger (#3), and Dream Theater (#2). But to be picked as #1?!? HOLY COW!!! We are so HONORED and HUMBLED by VIA NOCTURNA in PORTUGAL to have the CircuLive::NewView CD/DVD/Blu-ray selected as the #1 Live Release for 2020 !!! THANK YOU SO MUCH!!
"A prog rock based on theatricality and cinematography and which is oriented towards jazz, classical, and metal structures. The melodic lines are delicious, the solos are absolutely fantastic, and the vocal diversity denotes work, competence, and rigor. CircuLive::NewView is a disc that defines a band."
http://vianocturna2000.blogspot.com/2020/12/melhores-2020-categoria-live-re.html